Corporate Info
CORPORATE INFO
MESSAGE FROM SANSIRI
In 2020, the world encountered the great global crisis from the COVID-19 pandemic, leading to global economic downturn that had an inevitable impact on Thailand's property development industry. During this crisis, the Company has put utmost effort to taking care of every staff and resident to get through this together; especially, Plus Property Company Limited, our property management service provider, who tirelessly served all the residents during lockdown, including those under quarantine as per the government measures. This has proven that products and services from Sansiri group will always be at its best for all our residents.
With many uncertainties surrounding the lengthy recovery of the economic downturn, Sansiri had to constantly respond to those unpredictabilities. Since the early stage of COVID-19 breakout in Thailand, Sansiri was one of the first developer to execute inventory liquidation strategy in order to strengthen financial liquidity and position which is key to surviving through any fragile economy.
In response to the real demand in the market, Sansiri has shifted the strategies to focus on landed property, including single-detached house, semi-detached house, and townhome. With its current land bank and its financial strength, the Company had the ability to adjust its project launch plan according to the changing market. While constantly monitoring the market conditions, the Company was able to adapt its business plan to best suit any market changes.
In 2020, Sansiri launched 12 projects with total value of 14,900 Million Baht, consisting 3 single-detached house projects, worth 5,300 Million Baht, 3 townhome projects, worth 2,500 Million Baht, 5 mixed projects, worth 5,600 Million Baht, and 1 condominium project, worth 1,500 Million Baht. Sansiri also delivered 9 new condominium projects, worth 22,900 Million Baht, consisting 7 projects under Sansiri, and 2 projects under Sansiri/BTS and Sansiri/Tokyu Corporation joint ventures.
The inventory liquidation strategy in the first half of the year that drew overwhelmingly response from the market led to 35 residential projects being sold out within this year and the Company was able to record the all-time high transfer of 44,647 Million Baht reflecting the strength and trust that customers have towards Sansiri brand.
Other than cautiously operating our core business, Sansiri still determines to carry on projects regarding corporate social responsibility as it has been done in the previous year such as the partnership with UNICEF to improving children and youth's quality of life through various projects globally, the environmental conservation mission called 'Sansiri Green Mission', and the determination to conduct the business on the basis of good governance. In 2020, the Company received a 'sustainable stock honorary plate' from Stock Exchange of Thailand, and has been certified as an eligible stock in Thailand Sustainability Investment (THSI) list as well.
On behalf of the Company, I would like to extend our appreciation to our employees and executives for their endless effort to cope with COVID-19 pandemic in the volatile economy and get through this crisis together. I would like to express my gratitude to our alliances, business partners, commercial banks and financial institutions, and members of the press for their support and hope for your continued support for years to come.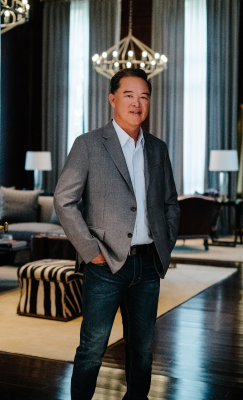 Apichart Chutrakul
Chairman & Chief Executive Officer