Corporate Info
CORPORATE INFO
MESSAGE FROM SANSIRI
In 2019, global economy in general has been affected by trade war that inevitably affected Thai economy as well, especially the continuous appreciation of Thai Baht that had an impact on export and tourism industries which are the key drivers of the growth of Thai economy. Real estate industry was also affected by the economic slowdown. The mortgage loan control 'Loan-to-Value (LTV)' measures that came into effect on 1 April 2019 also deteriorated customer's purchasing power. In recognition of these factors, Sansiri took a cautious approach, attuning its business plans to meet dynamic market conditions to mitigate risk that may affect the Company.
In 2019, Sansiri has launched 20 projects with total value of 30,000 Million Baht, consisting of 8 single-detached house projects, worth 15,600 Million Baht, 6 townhouse projects, worth 4,600 Million Baht, 2 mix projects, worth 2,900 Million Baht, and 4 condominium projects, worth 6,900 Million Baht. Of all projects, 90 percent of which located in Bangkok and vicinities and 10 percent located in other provinces, generated 21,000 Million Baht in sales. As for transferring, Sansiri has transferred ownership of 10 condominium projects to customers, worth 30,100 Million Baht, including projects under Sansiri, projects under joint venture between Sansiri and BTS Group and projects under joint venture between Sansiri and Tokyu Corporation from Japan.
In order to expand investment and diversify risk of business, in 2018 Sansiri has expanded its investment abroad by investing in hotel management company under 'The Standard' brand, which formerly managed 5 hotels in the United States. In 2019, The Standard has expanded and launched new hotels in London, United Kingdom and Maldives. In the coming future, The Standard plans to launch new hotels under management to cover every continent, enhancing our investment value in the future.
For the tireless commitment towards child development, since 2018, Sansiri has been recognized by UNICEF as the "UNICEF's First Selected Partner in Thailand", the only company in Thailand and one of twenty globally with the dedication to helping children for the past 9 years. Sansiri pledges to continue to cooperate and push forward projects to protecting children's rights and improve the quality of life of children. Sansiri has developed more than 14 projects, including the development of child well-being, raising awareness on children's right in Thailand, and provide borderless support to children around the world.
After the launch of environmental protection campaign (Sansiri Green Mission) in the previous year, Sansiri continues to carry on the mission by stop giving out drinking water in plastic bottle both at head office and sales galleries. Sansiri also encourages employees to use reusable cups and food containers to reduce plastic waste. Designated waste sorting areas are provided along with cultivating Sansiri residents on waste sorting and efficient waste management. In addition, to promote useful green areas, Sansiri and Plus Property launched "Sansiri Backyard" project by developing under-utilised land bank to be chemical-free farms serving fresh vegetable from farm to table, creating sustainable living for Sansiri residents. This year, Sansiri pledges to continuously push forward its environmental protection campaigns.
In 2020, Sansiri and affiliated companies will relocate to Siri Campus, the new headquarter, designed to boost creativity and effective collaborations among employees, including recreational areas that can serve as full option meeting and seminar areas. Sansiri intends to continually develop our workforce for sustainable growth of the Company. I believe that employees and executives will be determined and dedicated to achieving the Company's goals.
Finally, on behalf of the Company, I would like to extend our appreciation to our employees and executives for their endless efforts, our alliances, business partners, commercial banks and financial institutions, members of the press for their constant support. We hope that you will continue to support us in the coming future for Sansiri to remain one of the strongest leaders among property developers in Thailand.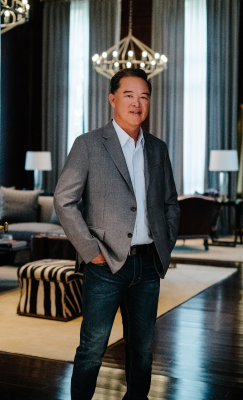 Apichart Chutrakul
Chairman & Chief Executive Officer