Corporate Info
CORPORATE INFO
NATURE OF BUSINESS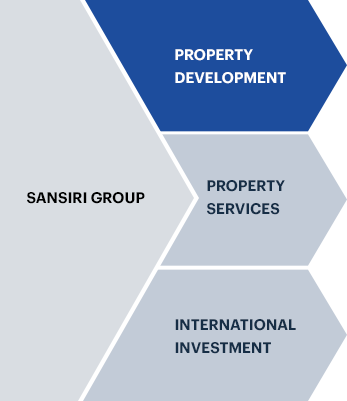 Sansiri Group is made up of Sansiri Public Company Limited as a parent company with a broad range of subsidiaries and joint venture companies as described in a chart of Investment Structure of Sansiri Group. Sansiri Group operates under Consolidated Supervision concept. The investment policy was classified as follows;
1. Property Development

consists of

A. Property Development for Sale:

Sansiri and its subsidiaries develop single-detached houses, semi-detached houses, townhouses, home offices, and condominium projects for all customer groups, both in Bangkok and vicinities and upcountry areas, with precast production factories to support construction of the Company's projects.

B. Property Development for Rent:

Sansiri and its subsidiaries have invested in leasehold commercial building, and expanded to the community retail named "Habito Mall", with various retails shops and restaurants to complement its core business of property development for sale.

2. Property Services

include fully-integrated services as follows;

Property and asset management, including property brokerage services, property sales management, property development consultancy, and property management
Building inspection service
Hospitality business which generates recurring income to the total revenues
Educational business under the name "Satit Pattana School"
Lifestyle concierge service for both individual and corporate
Event management and full wedding planning services in Thailand and worldwide

3. Investment Business

Sansiri invests in related businesses both locally and globally by investing in business in alignment with Sansiri's vision. These investment businesses will focus on the ways people live in the future including way of life, work, recreation, and learning through new technologies and media.
1. Plus Property Co., Ltd.

Property Development, Brokerage, Sales Management, Property Management

2. QT Lifestyle Co.,Ltd

Lifestyle Concierge Service for both Individual and Corporate

3. Touch Property Co., Ltd.

Building Inspection

4. QEW (Thailand) Co.,Ltd.

Event Management and Full Wedding Planning Services in Thailand and Worldwide

5. Plus Property Space Co., Ltd.

Hospitality Business

6. NED Management Co., Ltd.

Educational Business Named "Satit Pattana School"

7. Satit Pattana Personnel Center Limited

Consultancy and Advisory Services Pertaining to Business Administration
1. Sansiri Global Investment Pte. Ltd.

Offshore investment in property development for sales and/or for lease/rent

2. Sansiri Guernsey (2009) Limited

Property Development for Sale and / or for Rent in the UK

3. Sansiri Guernsey (2015) Limited

Property Development for Sale and / or for Rent in the UK