Sansiri's Corporate Social Responsibility (CSR) programme, "Sansiri Social Change", is a new approach to
Corporate Social Responsibility that aims to help, support, and develop the wellbeing of children in an inclusive and
sustainable way. Sansiri has been collaborating diligently with every sector, as we believe that it is necessary to
understand problems across the board in order to find the right solutions. One such collaboration was the partnership
Sansiri forged with UNICEF Thailand—a United Nations organisation which shares the same vision regarding children's
rights as Sansiri. The UNICEF-Sansiri collaboration was aimed at raising awareness for children's rights, and worked to
provide a foundation for equal rights for all children.
With our shared goals, Sansiri was honoured to be an official partner with UNICEF Thailand in protecting and
supporting children's rights, and to be a signatory for the "UNICEFSansiri Memorandum of Understanding" for ongoing,
sustainable project development for children.
The Pillars of Sansiri's Social Change Activities:
Sansiri encourages our employees and Sansiri residents to participate in social initiatives in order to create a culture
of compassion in communities and the business environment. It is also Sansiri's intention to serve as a positive role model
for other public companies listed on the Stock Exchange of Thailand and to encourage them to follow in contributing
to the protection of children's rights. By cooperating with UNICEF Thailand, Sansiri has developed pilot projects to exemplify
child-friendly business practices. For instance, Sansiri encourages a 6-month breastfeeding period for postnatal mothers by
allowing generous maternity leave. Breastfeeding rooms are also provided, complete with hygienic breast milk storage facilities,
at the Siripinyo and Ratchapak Office buildings. Sansiri has also introduced child-care training courses for employees and
established a children's playroom at the head office, in order to support child growth and development and give mothers
the opportunity to properly take care of their children. In addition, the facilities and utensils provided by Sansiri have been specially
designed to ensure exceptionally hygienic conditions for children.
Sansiri supports the end of child labour on construction sites. To ensure that Sansiri's business partners share the same vision,
Sansiri has signed MOUs with its contractors forbidding the exploitation of child labour. Any breach of this agreement results in
termination of contract. The stipulation is enforced throughout Sansiri's construction process, including in upcountry areas
such as Prachuap Khiri Khan, Phuket, Chiang Mai, Nakhon Ratchasima, and Khon Kaen, where Sansiri has now expanded its
project development.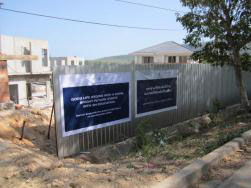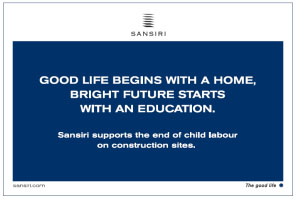 The 'Child-Friendly Space' Pilot Project
Child-friendly spaces were established at Sansiri's construction sites and developed into temporary classrooms for children.
Pilot projects were implemented at Chelona Khao Tao and Baan San Kraam in Hua Hin District to advance the wellbeing of the children around construction areas, and provide them with a safe place to play and learn.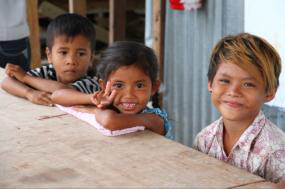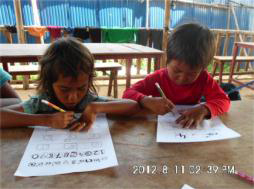 Making on Impact on Society at Large
Sansiri has collaborated with every sector to create positive and sustainable change, and improve the wellbeing of children.
With the intention of developing a better society, Sansiri has identified a broad range of problems and worked hard to encourage collaboration
between all sectors in devising comprehensive solutions.
Iodine Please (www.iodineplease.com)
The Iodine Please campaign aims to raise awareness of the fact that Thai children have IQs below the standard levels outlined by
the World Health Organisation (WHO), mainly as a result of iodine deficiency, which has negatively affected the development of
Thai children for the past 60 years. The campaign was designed to mobilise the powers of society to promote universal salt iodisation legislation in Thailand—an important step towards helping improve the brain development of children in the country. On January 1st, 2011, universal salt iodisation was officially legislated, making it a requirement for all types of salt to contain a sufficient amount of iodine in accordance with globally recognised ICCIDD/WHO standards.
Today, Sansiri still vigorously organises activities that promote understanding of the necessity of iodine in the development of children,
and collaborates with other organisations in educating people about the importance of these issues. For instance, Sansiri was a
supporter of the IQ EQ Development event which was organised by the Ministry of Public Health's Department of Mental Health.
Awards received:
Honourable Award for being 1 of 7 companies who actively promoted universal salt iodisation from
the former Prime Minister Abhisit Vejjajiva in 2010.
Best CSR Practice across Southeast Asia in 2011 by the Asia Responsible Entrepreneurship Awards (AREA) in 2011.
Basil Hetzel Award from the International Council for the Control of Iodine Deficiency Disorders (ICCIDD) in 2013.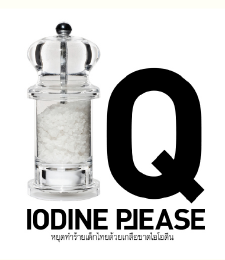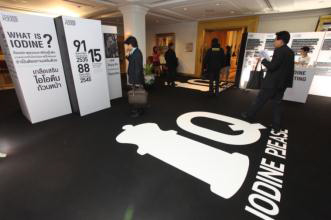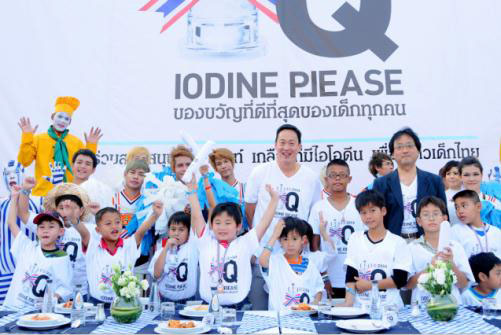 Let's Play Together
Play is a crucial component of growing up, and children of all ages should have the right to play. Playing helps children to develop not
only their strength and physical health, but also important mental and social skills. However, there are many children who are not
given the opportunity to play due to a lack of play space, equipment, or toys. This problem is even more prevalent in faraway provinces.
To raise awareness of children's "Rights to Play", Sansiri collaborated with UNICEF Thailand in supporting the "Let's Play Together" campaign via social media networks. The campaign gave the public a chance to contribute towards an effort that would help children
by promoting their rights to play through the design of sports shirts and participation in various activities online at
www.letsplaytogether.com
.
To this day, Sansiri and UNICEF Thailand continue to show their support by supplying sports equipment to schools in Mae Hong Son and Chiang Mai provinces.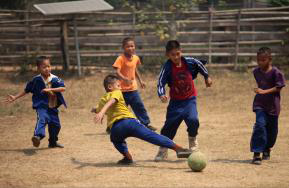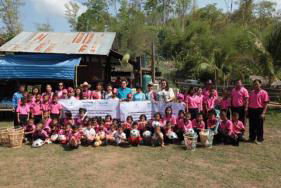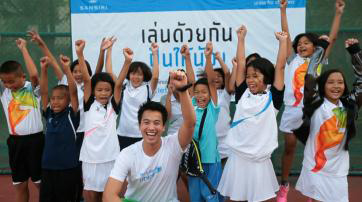 The GIVE Campaign
Collaborating with the Office of Social Development and Human Security, and Youth Council in Phuket, Sansiri and Phuket Province initiated the "Give" campaign. The objective of this project is to amplify the voices of Phuket's youth, and allow them to contribute towards solving real problems in the province. Delivering their messages to the government, private sector, local media, and tourists is a way to jointly develop sustainable solutions and rebuild Phuket as a "giving society".
The campaign also provided theoretical and practical training by a team of professionals and TV producers from the variety program,
"Kon Kon Kon". A series of workshops have been organised to develop the youths' thinking, presentation, and documentary-making skills, allowing them to create real projects to help improve the Phuket community. Most importantly, at the end of the campaign, a "Youth Civil Forum" will be arranged to provide a stage for the youths to voice their opinions, and allow related public and private sectors to participate in contributing to sustainable solutions to the identified problems.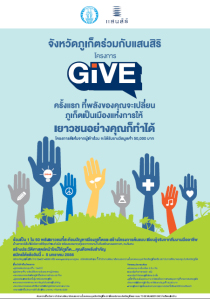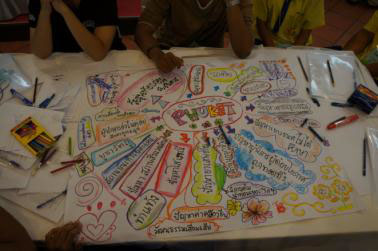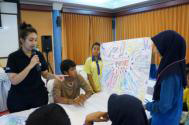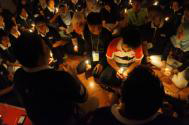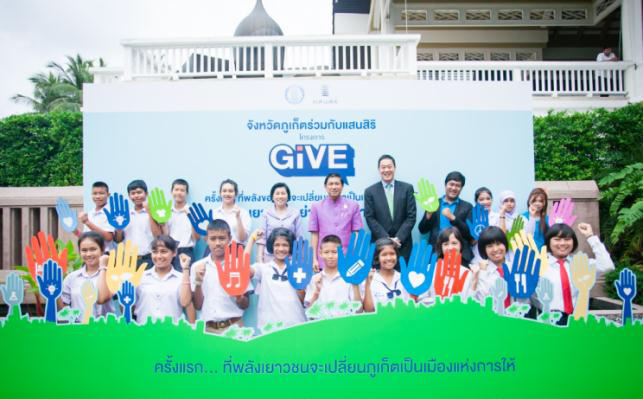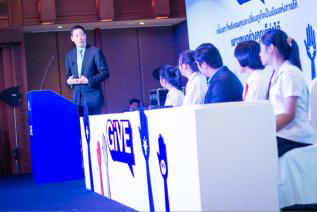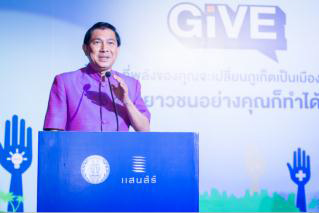 The Sansiri Academy
The Sansiri Academy, which provides free football training every weekend, was established to encourage children to use their free time wisely, to foster team spirit and discipline, and to help kids develop their talents and potential. Sansiri's training team comprises of professional football coaches with B and C licenses, including former members of the Thai national team. Currently, there are over 4,000 children in Bangkok participating in the programme at 5 facilities, located at Bhutthamonthon, Ramindra, Prachachuen, Bangna,
and Aksa. In addition, "Sansiri Academy Pro" was recently initiated in order to help top players advance their skills through an intensive
training course and competition participation. Sansiri has also assisted potential football players to enter schools that strongly
support the game and provide special football programs, such as Assumption Thonburi School. The goal is to allow children to develop
their football skills to an intermediate, and, eventually, national level.
In 2012, Sansiri expanded Sansiri Academy by supporting the Tsunami Memorial Football Centre in Phuket—a place where children can learn to play football which was closed due to being unable to afford football coaches and equipment. Discovering that many children, parents, and teachers had requested that the centre be reopened, Sansiri implemented its own Sansiri Academy courses and brought in coaches to teach children as a pilot project in Phuket.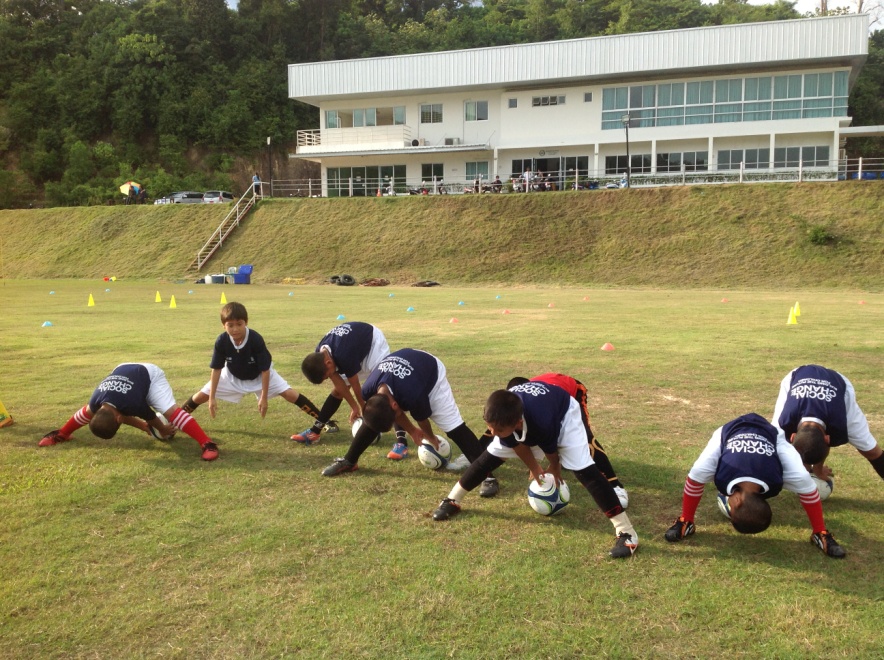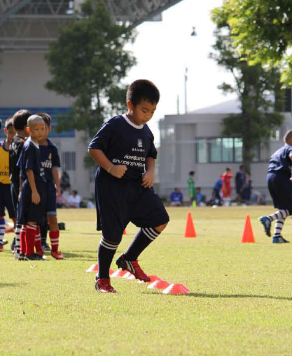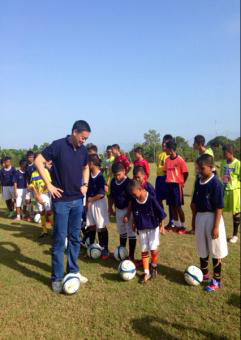 Extending Help on an International Level
To help children in emergencies, both in Thailand and abroad, Sansiri donated part of its earnings to the UNICEF Emergency Fund to
support children who have been affected by violence, wars, or natural disasters—such as the earthquake in Haiti—by providing emergency health care, clean drinking water, and other essential services.
With Sansiri's main focus being to foster collaboration between all sectors, the company organised campaigns together with UNICEF Thailand, utilising printed material and websites to increase awareness and encourage other private sector organisations to support
UNICEF's work for children in emergencies—the message being: "Children are everyone's business".